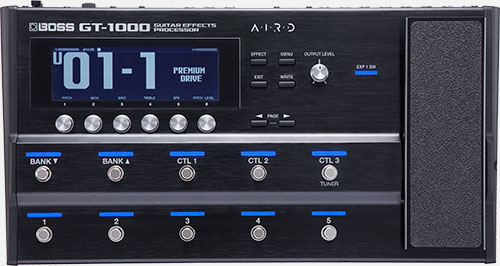 Lien vers le logiciel et les drivers du BOSS GT1000 :
https://www.boss.info/fr/products/gt-1000/downloads/
Conversion AN/NA 32 bits, calculs en 32 bits à virgule flottante, fréquence d'échantillonnage de 96 kHz
Générateur DSP BOSS de nouvelle génération, conçu spécialement pour des applications musicales
La technologie AIRD (Augmented Impulse Response Dynamics, ou Réponse en dynamique à impulsion augmentée) permet de disposer du fameux concept Tube Logic de BOSS dans un processeur numérique pour guitare, procurant des sensations de jeu naturelles et une intégration optimale dans tous les types de configuration
Des amplis hautement expressifs élaborés grâce à AIRD
Un énorme choix d'effets BOSS, dont les MDP et des algorithmes directement importés des pédales de la gamme 500.
Amplis et effets peuvent être routés de nombreuses manières, en série ou en parallèle
Changement de patch ultra rapide avec persistance de delay
La fonctionnalité Stompbox innovante pour simplifier les réglages des effets les plus utilisés dans des patchs différents
Manipulations faciles grâce à un large écran et six boutons librement assignables
Dix footswitchs et une pédale d'expression intégrée avec assignations modifiables et LEDs de couleur
Accordeur haute résolution avec deux modes d'affichage, et fonctionnement en mono ou polyphonie
Sorties Main en jack 1/4 de pouce, sorties Sub en XLR avec réglages AIRD Output Select indépendants ; boucle pour effets mono ou stéréo externes
Possibilité de contrôle externe par footswitchs, pédales d'expression, MIDI et USB
Bluetooth intégré pour éditer vos sons sans fil grâce à l'appli BOSS Tone Studio pour terminaux iOS et Android
Interface audio/MIDI par USB pour l'enregistrement et l'édition sur un ordinateur
16 emplacements de chargement de réponses impulsionnelles de baffle au format WAV
Un mode dédié aux basses électriques
Caractéristiques technique du BOSS GT1000 :
Sampling Frequency
96 kHz
AD Conversion
32 bits + AF method
* AF method (Adaptive Focus method) is a proprietary method from Roland & BOSS that vastly improves the signal-to-noise (SN) ratio of the AD and DA converters.
DA Conversion
32 bits
Effects
145 types
Patches
250 (User) + 250 (Preset)
Phrase Loop
38 sec. (MONO)
19 sec. (STEREO)
Tuner Internal Detection
+/-0.1 cent
Nominal Input Level
INPUT: -10 dBu
RETURN1: -10 dBu
RETURN2: -10 dBu
Maximum Input Level
INPUT: +18 dBu
RETURN1: +8 dBu
RETURN2: +8 dBu
Input Impedance
INPUT: 1 M ohm
RETURN1: 1 M ohm
RETURN2: 1 M ohm
Nominal Output Level
MAIN OUTPUT (L/MONO, R): -10 dBu
SUB OUTPUT (L, R): +4 dBu
PHONES: -10 dBu
SEND1: -10 dBu
SEND2: -10 dBu
Output Impedance
MAIN OUTPUT (L/MONO, R): 1 k ohm
SUB OUTPUT (L, R): 600 ohms
PHONES: 20 ohms
SEND1: 1 k ohm
SEND2: 1 k ohm
Recommended Load Impedance
MAIN OUTPUT (L/MONO, R): 10 k ohms or greater
SUB OUTPUT (L, R): 600 ohms or greater
PHONES: 44 ohms or greater
SEND1: 10 k ohms or greater
SEND2: 10 k ohms or greater
Controls
DOWN switch, UP switch CTL1--3 switches, 1--5 switches, POWER switch
EFFECT button, MENU button, EXIT button, WRITE button, PAGE button
1--6 knobs, OUTPUT LEVEL knob
Expression pedal
Display
Graphic LCD (512 x 160 dots, backlit LCD)
Connectors
INPUT jack, MAIN OUTPUT (L/MONO, R) jacks, SEND1 jack, RETURN1 jack, SEND2 jack, RETURN2 jack: 1/4-inch phone type
SUB OUTPUT (L, R) connectors: XLR type
PHONES jack: Stereo 1/4-inch phone type
CTL4, 5/EXP2 jack, CTL6, 7/EXP3 jack, AMP CTL1, 2 jack: 1/4-inch TRS phone type
USB COMPUTER port: USB B type
DC IN jack
MIDI (IN, OUT) connectors
Power Supply
AC adaptor
Current Draw
1.2 A
Accessories
AC adaptor (PSB-1U + AC Cord Set)
Owner's manual
Leaflet "USING THE UNIT SAFELY"
Options (sold separately)
Footswitch: FS-5U, FS-5L, FS-6, FS-7
Expression Pedal: EV-30, FV-500L, FV-500H, Roland EV-5
AC adaptor (PSB-1U)

* When purchasing an AC adaptor, be sure to specify the adaptor (from the list that follows) that is designed for the region in which it will be used, and the voltage supplied there.
(PSB-120/PSB-120TW/PSB-230EU/PSB-230UK/PSB-240A)
SIZE AND WEIGHT
Width
462 mm
18-3/16 inches
Depth
248 mm
9-13/16 inches
Height
70 mm
2-13/16 inches
Maximum height
95 mm
3-3/4 inches
Weight
3.6 kg
7 lbs 15 oz